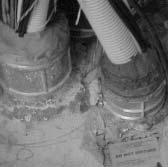 MECHANICAL & ARCHITECTURAL FIRESTOPPING
As a certified fire stop contractor for major material manufacturers committed to excellence and safety, we recognize that fire stopping is a serious business. Fire, smoke and toxic fumes are major factors for loss of lives and property every year. All building codes have come into existence to reduce the threat of fire.
Firestops are a major and integral part of any fully-implemented containment system. Containment is the principal strategy and engineering expertise included in all building codes. We at Imico, Inc. have done our homework, working alongside the major fire stop material manufacturers to offer a fire stop system that complies with these stringent and required building codes that includes the three major dimensions of fire safety; PREVENTION, CONTAINMENT, and SUPPRESSION. Our well trained team of sales engineers and installers can satisfy the most demanding of building conditions and special requirements.
A fire stop must satisfy a number of requirements. First, it must be able to meet the same fire resistance rating as the barrier in which it is used. Second it must be reasonably easy to re-do and/ repair to accommodate your building modifications. An above all it must be reasonably inexpensive.
Sound Complicated? It is. And we, at Imico, Inc., are well trained and experienced to offer you PEACE of MIND.